2008 PONY League World Series
Click for Bracket (.pdf)
Long Beach is Walk-Off Winner!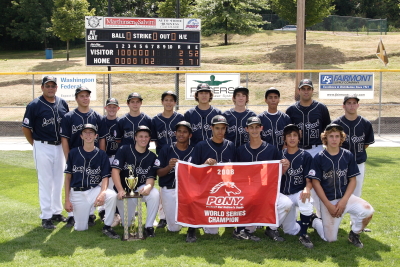 Oliver Van Buskirk strokes a pinch-hit, two-run, walk-off homerun for Long Beach to win the 2008 PONY League World Series! Down a run heading to the bottom of the seventh, Matt Maccarrone singled to left. Manager Ken Jakemer had already called for a pinch-hitter. Van Buskirk's second World Series homerun just cleared the fence in rightcenter, and launched the Long Beach crowd into hysteria.
Chase DeJong went the distance, getting his second World Series victory. DeJong allowed just one earned run on five hits. The Long Beach righthander also won the New ERA Cap ERA award, holding opponents to three earned runs over 15 innings.
Chinese Taipei took a 1-0 lead with an unearned run in the first. Chen Chi Yuan doubled after two out and scored on a throwing error.
Long Beach, last year's runnerup, tied the game with an unearned run in the bottom of the fifth. Brett Harper hit into a force play, but the relay throw went out of play, putting Harper on second. Daniel DeWolf singled to left, driving in Harper.
The Asia-Pacific champions went back in front in the top of the seventh. Chiang Lee Wei walked and was sacrificed to second. Chiang stole third and scored on Wang Chao Min's basehit. Chinese Taipei had runners at second and third with one out, but a short passed ball got the runner from second too far off the bag. Wang, then at third, tried to score but was retired in a rundown..
Linescore
CT 1-0-0-0-0-0-1=2r, 5h, 2e, 4lob
LB 0-0-0-0-1-0-2=3r, 8h, 1e, 5lob
WP--Chase DeJong. 7 IP, 2 R, 1 ER, 5 H, 3 W, 3 K
LP--Hu Chih Wei. 1.0 IP, 2 R, 2 ER, 2 H, 1 K
HR--Oliver Van Buskirk (2)
Inning by inning recap:
CT 1st--After two out, Chen Chi Yuan doubled to center. Chu Li Jen reached on a throwing error, scoring Chen. A groundout ended the inning with one left on.
LB 1st--After one out, Daniel DeWolf singled to leftcenter. Thomas Walker grounded into a force play and was stranded.
CT 2nd--With two out, CHiu Chun Chang walked. Hsu Yung Cheng bunted for a basehit. A lineout ended the inning with two left on.
LB 2nd--Soloman Willings, Irie Elizalde and Matt Maccarrone all singled to open the inning, loading the bases. Two flyouts and a groundout left the bases loaded.
CT 3rd--Liu Chia Kai walked but was later caught stealing.
LB 3rd--DeWolf reached on a groundball error but was erased on a line drive doubleplay.
CT 4th--Three up, three down.
LB 4th--All three batters hit balls to short--pop out, groundout, lineout.
CT 5th--With one out, Hsu Yung Cheng singled to right. A groundball doubleplay ended the inning.
LB 5th--After one out, Avery Flores singled. Brett Harper hit into a force play, but reached second on a throwing error, the ball going into the camera circle. DeWolf singled to left, scoring Harper. A flyout ended the inning with one left on.
CT 6th--Three up, three down. With the aid of the caught stealing and a doubleplay, DeJong has retired 13 straight.
LB 6th--Groundout, strikeout, flyout.
CT 7th--Chiang Lee Wei walked on a 3-2 pitch, was sacrificed to second by Lin Yu Chih, then stole third. Wang Chao Min singled to center, scoring Chiang. Hu Chih Wei singled to right, moving Wang to second. After a passed ball moved up both runners, Wang was retired in a rundown between third and home. A popout ended the inning.
LB 7th--Matt Maccarrone singled to open the inning. Oliver Van Buskirk homered to right, winning the PONY League World Series championship.
Starting Lineups:
Taichung, Taiwan
Long Beach, CA

7

Hsu Hao Feng

CF

8

Brett Harper

CF

5

Liu Chia Kai

1B

11

Daniel DeWolf

3B

13

Chen Chi Yuan

SS

24

Thomas Walker

SS

3

Chu Li Jen

3B

34

Chase DeJong

P

1

Chiang Lee Wei

RF

5

Soloman Williams

1B

2

Lin Yu Chih

C

99

Irie Elizalde

LF

15

Wang Chao Min

LF

16

Matt Maccarrone

C

10

Chiu Chun Chang

P

15

Victor Martinez

RF

6

Hsu Yung Cheng

2B

2

Avery Flores

2B
Chinese Taipei Rallies Past Gurabo, Makes Final
Chiang Lee Wei tossed a complete game four-hitter, leading Chinese Taipei to a 5-4 win over Gurabo, PR and a berth in Saturday's PONY League World Series championship game against Long Beach, CA.
Gurabo started quickly, leading 2-0 after four batters. Daniel Flores walked to open the game. After a wild pitch, Chrisian E. Rivera singled. A double steal brought Flores home. After a fielder's choice, Richard Gonzalez grounded out to short, scoring Rivera.
Hsu Hao Feng singled to open the first for Chinese Taipei and moved to second on a groundout. Chu Li Jen singled to left, scoring Hsu.
After one out in the second, Lin Yu Chih doubled. After an error put Wang Chao Min on first, both runners moved up on an errant pickoff throw. Pinch-hitter Tseng Hsin Hao tied the game with sacrifice fly to right.
The Caribbean champions went back in front when Gonzalez stroked a two-run homerun to right, scoring Flores ahead of him. But Gurabo would only get two more hits the rest of the night. In fact, Chiang would get nine strikeouts from that point on.
Meanwhile, Chu kept up the scoring, lining a solo homerun to rightcenter in the fourth. With two on and two out in the fifth, Chu singled to score Hsu, tying the game. Chiang followed with a mis-handled grounder to short, allowing Liu Chia Kai to score the game-winning run.
Chiang struck out a series-high 14 batters, walking five and allowing just four hits to earn his second win of the season. Chu finished the game with three hits and three runs batted in. Gonzalez drove in three for Gurabo.
Not "IF" But "WHEN"!
Friday night, for the first time since 2004, the PONY League World Series will play an "If Necessary" game to decide a finalist. Each time In the previous nine years played under the current two division/double elimination format, when an extra game has been needed, the Loser's Bracket team has won--Ponce, PR (2001), Chesterfield County, VA (2001), Humacao, PR (2003) and Mililani, HI (2004).
In winning the 50th PONY League World Championship, Ponce became just the fifth team ever to lose their first game and come all the way back to the title--Oak Park/River Forest, IL (1960), Greensboro, NC (1966), Orange, CA (1971), Tampa, FL (1976) and Ponce, PR (2001).
Long Beach Goes to Title Game
Winning pitcher Daniel DeWolf drove in three runs, including the tie-breaker in the seventh as Long Beach earned a return trip to the PONY League World Series title game, eliminating Tamiami, FL, 9-7. DeWolf doubled home one run in the sixth, at the time tying the game, 5-5. He then scored on Thomas Walker's single. After Tamiami tied the game in the bottom of the sixth, DeWolf singled home Avery Flores, giving Long Beach a lead it would never give up. Walker followed with a two-run single, giving the West Zone champions a three-run cushion. DeWolf was 4-5 with two doubles, reached base all five times, drove in three runs and scored three more. Oliver Van Buskirk added a solo homerun.
Gurabo Forces "If Necessary" Game
The Caribbean champions scored four times in the bottom of the sixth, beating Chinese Taipei, 7-4. Each team now has one loss in the division, heading into Friday's "If Necessary" game with a spot in the World Series Final on the line.
Three bunts started the Gurabo sixth. Jan Ramos put down a perfect bunt single to open the inning. Nelson Flores' sacrifice was thrown away and Miguel Riestra's sacrifice turned into a fielder's choice, loading the bases with nobody out. After one out, a groundball to third was booted, allowing the go-ahead run to score. Winning pitcher Vimael Machin followed with a two-run single, giving him 13 rbi in the series, breaking a record set in 1955. Machin homered in the first inning. Machin held Chinese Taipei to just two hits through five innings.
Trailing 3-0, Chinese Taipei got solo homeruns from Liu Chia Kai and Chu Li Jen. The Asia Pacific champs tied the game on a Hsu Yung Cheng single, scoring Chen Chi Yuan.
Elimination Day! Tamiami Earns Rematch, Eliminates Hagerstown
A nine-run fourth powered Tamiami into Thursday's Division Finals and a rematch with unbeat Long Beach, CA. Robert Fuentes hit a two-run homerun and Victor Fuentes' three-run triple led the way in the uprising. The South Zone champs took a 3-1 lead in the first on a Jason Bonilla two-run double. After Dylan Ianaro homered for Hagerstown, Tamiami scored three more times in the second. Robert Fuentes doubled home one run and scored on Carlos Sosa's basehit. Danny Salomon got the win, allowing just one hit while striking out three.
Gurabo Knocks Out Johnstown
Twelve Runs, One Inning--Vimael Machin stroked a grand slam and added an rbi single, all in the same inning as Gurabo scored 12 runs in the third inning, eliminating Johnstown, 12-2, in five innings. Edgardo Rivera added a two-run homer and three rbi in the inning. Richard Gonzalez doubled home two runs. Edgardo RIvera held the Host Area champions to one hit over four innings. Ben Legath and Brian Laurito drove in runs in the Johnstown fifth inning, but a doubleplay ended an attempt to extend the game. Gurabo takes on unbeaten Chinese Taipei in Thursday's Division Finals.
Long Beach Beats Hagerstown, Takes Control of Division
Hagerstown managed just three hits, none after the fourth, as Long Beach moved to the Division Finals with a 10-4 win over the East Zone winners. Brett Harper, Chase DeJong and Thomas Walker each drove in two runs for Long Beach. Harper homered in the second. DeJong delivered with a single and a double. Walker, who plated the first run of the game with a groundout, later added a run-scoring single. The West Zone champions scored in five of the seven innings, plating seven of their 10 runs after two outs. Oliver Van Buskirk picked up the win in relief, not allowing a hit over 2.2 innings of work. Hagerstown got an rbi single from Austin Yost in the fourth, but trailed 10-1 entering the bottom of the seventh.
Tamiami eliminates Washington
Jason Bonilla blasted a three-run homerun, leading Tamiami past Washington, 15-2, eliminating the hosts in five innings. Bonilla's blast highlighted a seven-run first inning. The opening frame included an rbi single for Robert Fuentes and a sacrifice fly from Danny Salomon. Fuentes added a solo homer in the third. Bonilla finished with four runs batted in. Washington committed seven errors in the game. Leo Paz, Jr. got the win in relief of starter Lazaro Romero. Tamiami takes on Hagerstown Wednesday in the division's final elimination game.
Chinese Taipei dominates Johnstown
Chiang Lee Wei struck out a dozen batters and stroked a solo homerun in the first as Chinese Taipei moved into the Division Finals with a 13-1, 6-inning win. Hsu Hao Feng opened the game with a solo homer to left. One out later, Chiang hit his round-tripper. The Asia Pacific champions then scored six runs in the fourth, getting a solo homerun to start the frame from Chen Chi Yuan and five straight singles followed. Wang Chao Min's single in the sixth put Chinese Taipei into a 10-run rule situation. Johnstown's only tally came on a wild pitch with two out in the second. Brian Laurito tripled off the fence in rightcenter. After two strikeouts and two strikes on Nick White, a fastball went wide of the mark, allowing Laurito to score the Host Area winners' only run. Johnstown now faces Gurabo for the second time in the series. Chinese Taipei awaits the survivor of the game in the Division Finals, needing one win to advance to the World Series title game.
Gurabo crushes Davenport
Jose Ortiz stroked a three-run homer in the first, Christian E. Rivera smashed a two-run shot in the fourth, leading Gurabo to a 12-3 win over Davenport. Starter Jan Ramos worked four innings to pick up the win. Vonnellson Betancourt pitched the final three innings for a save, his first. Vimael Machin delivered three rbi in the contest, including a two-out single in the second, putting Gurabo up 6-0. Davenport got an rbi double from Tim Kilfoy plus a run-scoring single in the seventh. Gurabo gets a rematch with Johnstown in Wednesday's elimination round.
Sunday--Hagerstown Pounds Washington, 16-6
A seven-run third inning set the stage as Hagerstown spoiled the host's opening-night plans, beating Washington 16-6 in six innings. Back to back walks after two out started the rally. After run-scoring hits by Drew DeShong and Aaron Dinterman, Jake Bachtell blasted a three-run homerun to put the East Zone champs up 5-2. A walk followed, along with a strikeout/passed ball, and a two-run double for Dylan Ianaro made it 7-2. The Marylanders put up five runs in the fifth, four more in the sixth to close out the game. Dinterman and Bachtell had rbi's in the fifth inning. Winning pitcher Aaron Stoner stroked a two-run double in the sixth. Stoner held Washington to five hits, just two after the second inning. Jason Poland hit a three-run double in the fifth. Zach Kavolak had an rbi triple in the first for Washington. Hagerstown moves to a Tuesday night faceoff with Long Beach, CA. Washington tries to stay in the tournament, taking on Tamiami, FL late Tuesday afternoon.
Long Beach knocks off Tamiami, 5-1
Chase DeJong struck out ten, scattering six hits, leading Long Beach past Tamiami, 5-1. Matt Maccarrone hit a solo homerun in the third, was hit by a pitch and scored in the fifth, and was on the front end of a double steal in the sixth, putting LB up 3-0. The West Zone champions added a two-run single by Soloman Williams in the seventh before Tamiami's Danny Salomon homered with one out in the bottom of the seventh. DeJong picked up eight strikeouts over the final four innings. Long Beach takes on Hagerstown in the Winners' bracket game Tuesday night. Tamiami faces Washington in an elimination game.
Welcome back, Champs!
Sunday night, between games of the doubleheader, members of the 1958 PONY World Series championship from Miami, FL celebrated the 50th annniversary of their title-game victory. Coach Tom Winston, Jr., and players Fred Schwabe, Don Mullis, Tom Shannnon, Richard Solloway, Ronald Leventhall, Carlos Perez, Robert Chandler, Robert Roser, Steve Vajda, Eddie DuBois, Walter Malinowski, Richard Miller and Frank Fernandez all returned to Washington, most of them for the first time since scoring their come-from-behind title game victory over Hamtramck, MI.
Saturday--No-Hitter Opens Series!
Chiang Lee Wei and Hu Chih Wei combined on a five-inning no-hitter as Chinese Taipei topped Davenport, IA, 11-0. This was the 17th no-hitter in PONY World Series history. Chiang hit one batter and walked another in four innings of work, striking out eight. The Asia-Pacific champions scored in four of their five at-bats, including six runs in the bottom of the fifth to end the game. Chu Li Jen stroked a three-run homer off the top of the fence in right to invoke the 10-run rule. Hsu Hao Feng also had two rbi.
First-Ever World Series Win for Johnstown
Johnstown had never won a game at the PONY League World Series, until Saturday night. The Host Area champions batted around in the third, scoring four runs, more than enough to beat Gurabo, PR, 6-2. Christian Leech doubled to close the scoring in the inning, following rbi singles by Ben Legath and Zach Solarczyk, and a run-scoring groundball hit by Nick White. Solarczyk added another rbi single in the fifth, then scored on a pinch-hit single by Jerrell Thornton. Legath got the win, striking out 11 batters over the seven innings. Christian J. Rivera led Gurabo with a two-run single in the fifth inning.
The Field is Set! Let the Games Begin!
Tamiami, FL and Long Beach, CA won Zone championships Wednesday night, rounding out the eight-team field for the PONY League World Series, starting Saturday. The South and West winners join Hagerstown (MD), Davenport (IA), Johnstown (PA), Gurabo (PR), Chinese Taipei and the hosts for the 46th PONY World Series played in Washington (PA), its founding city.
Miami '58 / Tamiami '08?
The PONY World Champions from 1958 will celebrate their Golden Anniversary this weekend at Lew Hays PONY Field. On hand to aid in the festivities with be the 2008 South Zone champions from Tamiami, FL. This year's squad was taken the distance by Corpus Christi, TX, needed the "If Necessary" game to qualify for the World Series. It's the fourth straight year the South Zone needed the extra game to determine a winner. It's the first time in those years that the Losers' Bracket team didn't win the title.
Hagerstown Wins the East
Hagerstown, MD claimed the East Zone championship and is heading back to the PONY League World Series for the first time since 2002. The winners were pushed to the If Necessary game by Chesterfield Co., VA. Hagerstown has been in the PONY World Series more years than any individual program except for Caguas, PR and the host Washington, PA.
Davenport East Completes One Bracket
Davenport outlasted North Zone host Bay County, 8-6, Sunday night, clinching a berth in the PONY League World Series. The Iowans will open the Series Saturday afternoon, taking on Chinese Taipei at 5:30 pm.
Johnstown Defends Host Area title
Johnstown, PA won the Host Area tournament in impressive fashion, winning a return trip to the PONY League World Series. The Cambria County program also played in the 2005 & 2007 PONY championship series.
Caribbean, Asia-Pacific Zone Winners
Gurabo, Puerto Rico will make its first-ever appearance at the PONY League World Series, having won the Caribbean Zone championship.
Chinese Taipei won the Asia-Pacific Zone title for the second straight year and has qualified for the upcoming World Series. Both teams will see action opening day, Saturday, August 9th.