2009 PONY League World Series
August 7-15, 2009
Lew Hays PONY Field--Washington Park
Click Here for tournament bracket
Chinese Taipei Wins PONY Title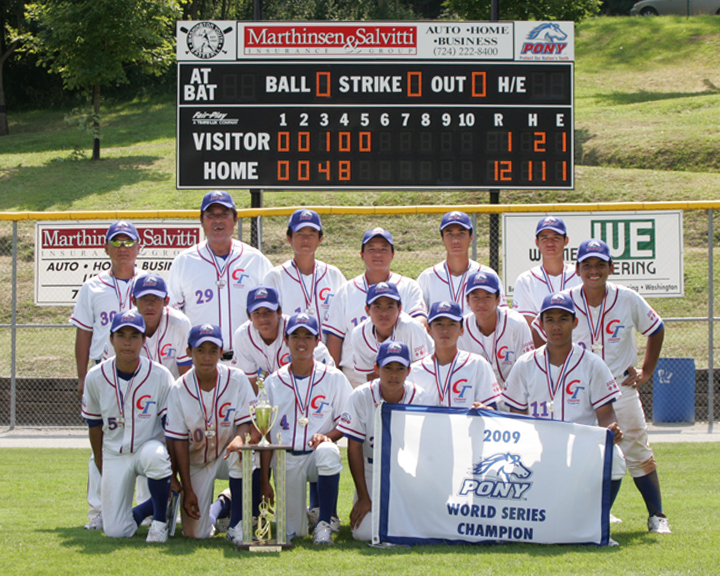 Chen Wei Lan combined with Ta Kuan Lai on a championship game two-hitter, and Yu Cheng Chang and Chih Chieh Su both homered as Chinese Taipei rolled to the PONY League World Series title, beating Riverside/Victoria, CA, 12-1, in five innings. This is the sixth championships for Chinese Taipei in the last 16 years.
The Californians took a 1-0 lead in the third when Derek Van Billiard doubled and scored on Jeremy Goldenetz' single. That turned out to be the West Zone champs' only run, and only hits, in the game.
Taipei plated four runs in the bottom of the inning, getting an rbi single from Ispalidav Lanihu, a two-run basehit from Su and an rbi groundout by Cheng Nan Chang. In the fifth, a three-run homerun by Yu Cheng Chang, his second of the series, made it 7-1. Two batters later, Su blasted a two-run shot, his second round-tripper. Jung Hung Sen and Po Sheng Wang stroked rbi doubles and Po Chen Chung's single closed the scoring.
Lan worked the game's first three innings, allowing one run on two hits, striking out two. Lai retired all six batters he faced, striking out five of them.
| | | | | | | | | | | | |
| --- | --- | --- | --- | --- | --- | --- | --- | --- | --- | --- | --- |
| Linescore | 1 | 2 | 3 | 4 | 5 | 6 | 7 | R | H | E | LOB |
| Riverside | 0 | 0 | 1 | 0 | 0 | - | - | 1 | 2 | 1 | 1 |
| Chinese Taipei | 0 | 0 | 4 | 8 | X | - | - | 12 | 11 | 1 | 3 |
Here's an inning-by-inning play-by-play:
Riverside 1st: Strikeout & two groundouts.
Taipei 1st: Single (Yu Cheng Chang), force play, groundball doubleplay.
Riverside 2nd: Groundout, infield error, groundball doubleplay.
Taipei 2nd: Flyout to fence in leftcenter, groundout, lineout.
Riverside 3rd: After two out, Derek Van Billiard doubled off the fence in right. Jeremy Goldenetz singled to left, scoring Van Billiard.
Taipei 3rd: With Po Chen Chung at first after a force play, pinch-hitter Wei Kang Wang was hit by a pitch. Yu Cheng Chang singled, loading the bases. Ispalidav Lanihu singled to left, scoring Chung. Chih Chieh Su's single to right drove in two runs, Wang & Chung. Cheng Nan Chang grounded out to second, plating Lanihu.
Riverside 4th:Now pitching for Chinese Taipei-Ta Kuan Lai. Three strikeouts.
Taipei 4th: Pitching change for Riverside--Tony Martinez. With Po Chen Chung and Ta Kuan Lai on base, Yu Cheng Chang hit a three-run homerun, his second homer of the World Series. Ispalidav Lanihu singled. Pitching change for Riverside--Freddy Dominguez. chih Chieh Su homered to left, his second World Series homerun. Cheng Nan Chang singled and stole second. Jung Hung Sen doubled to left, scoring Chang. Po Sheng Wang doubled to score Sen, then scored on Po Chen Chung's single.

Riverside 5th: Flyout, two strikeouts. Game over.
Starting Lineups:
Riverside/Victoria, CA
Chinese Taipei

22

Jeremy Goldenetz

CF

6

Yu-Cheng Chang

3B

1

Mike Darr

2B

9

Ispalidav Lanihu

C

14

Gabriel Clark

1B

13

Chih-Chieh Su

SS

10

Paul Martinez

P

5

Cheng Nan Chang

CF

15

Jack Johnson

LF

2

Sheng-Chieh Lin

LF

5

Cody Palmer

SS

7

Jung-Hung Sen

RF

9

Tony Martinez

3B

10

Po-Sheng Wang

2B

21

Glenn Guardamondo

C

3

Po-Chen Chung

1B

7

Derek Van Billiard

RF

1

Chen-Wei Lan

P
Substitutions:
C-T Wei Kang Wang, pinch hit for Chen Wei Lan, bottom of 3rd,
C-T Ta Kuan Lai, pitcher for Wei Kang Wang, top of 4th,
Riv Tony Martinez, from third base to pitch, bottom of 4th
Riv Paul Martinez, from pitcher to shortstop, bottom of 4th
Riv Cody Palmer, from shortstop to third base, bottom of 4th
Riv Freddy Dominguez, pitcher, bottom of 4th, for Tony Martinez
C-T Chen Yuah Yang, leftfield for Sheng Chieh Lin, top of 5th
C-T Ting Chen Lin, rightfield for Jung Hung Sen, top of 5th
Riv Robert Ortega, pinch hit for Glenn Guardamondo, top of 5th.
Championship Notes: The 58th PONY League World Series Championship is on the line this afternoon when Riverside/Victoria, CA takes on Chinese Taipei. Both teams had to win "If Necessary" games just to get to the finals. We'll have starting lineups, inning-by-inning updates and post-game news & notes right here. Click refresh often.
Chinese Taipei has had a long, but steady, climb to the finals. The Asia-Pacific champions lost their first game of the Series, dropping a 3-1 decision to Toa Baja, PR. C-T then battled back through the losers bracket, including back-to-back wins over Toa Baja, including a 4-2, 8-inning win in the "If Necessary" game Friday night. This is the third time in five years that Chines Taipei has a team in the finals, the fourth time in ten. Taipei has won five championships in the past 15 seasons.
Riverside/Victoria waited until Sunday to play their first game, and pounded out four homeruns in a five-inning victory. The West Zone champs then had to wait until Wednesday because of weather to play a winners bracket game against the Hosts. Tony Martinez' sixth-inning homerun put Riverside into the division finals. Tamiami forced an extra game by jumping on the Californians for six runs in the first, then scored in every inning after that, rolling to an 18-6 thrashing. Riverside rebounded well, scoring six runs over the first two innings of the "If Necessary" game to earn a spot in the finals, the 8th straight year a West Zone champion has been in the PONY championship game. California teams have won five titles in the past dozen years, 20 all-time in the PONY League World Series, more than any other state or country.
Records equaled in 2009 PONY League World Series
Most Runs Batted In, Game (8) -- Paul Martinez, Riverside, CA
Most Home Runs, Inning, Team (3) -- Riverside, CA
Grand Slam Home Run (#31) -- Dom Francia, Mon-Yough, PA
Grand Slam Home Run (#32) -- Christopher Murelle, Tamiami, FL
Individual Pitching Victories (3) -- Jack Johnson, Riverside, CA
Friday, August 14--Taipei, Riverside to Finals!
California bats erupt, eliminate Tamiami
Gabriel Clark went four-for-four, including two three-run home runs, and drove in seven runs, as Riverside/Victoria avenged its only loss, pounding Tamiami, 15-5 in six innings. Glenn Guardamondo blasted a two-run homerun in the second. Two walks and two outs later, Clark hit the first of his home runs putting Riverside up 6-0. The West Zone champions plated five more in the fourth, led by winning pitcher Jack Johnson's two-run single. Johnson allowed five runs on five hits while striking out nine to earn his third series victory, the 21st pitcher all-time with three wins in a World Series.
David Jervis hit his fourth homerun of the World Series for Tamiami. Later in the game, Anthony Tucker homered, the seventh different Tamiami player to go yard. As a team in the Series, the South Zone champs hit 11 homeruns, including a grand slam by Chris Murelle, who started on the mound tonight and took the loss.
Extra game + extra innings needed
Chinese Taipei and Toa Baja not only needed an "if necessary" game to decide the division title, they needed extra innings. In the bottom of the eighth, Cheng Nan Chang hit a 1-2 pitch over the fence in right, leading Chinese Taipei to a 4-2 win over Toa Baja and a berth in the World Series championship game. Cheng pitched the first 6.1 innings, holding Toa Baja to five hits and one earned run. Taipei is the first team since 2001 to lose its first game and qualify for the World Series final. Yu Cheng Chang got the win in relief, allowing just one hit over the final 1.1 innings.
Toa Baja led 1-0 in the third on an unearned run. Taipei scored two runs on two errors in the fifth. In the Puerto Rico sixth, Roberto Guillermo's double scored Jan Cintron to tie the game. Jose Mercado took the loss, allowing the walk-off homerun. Joe Jimenez did not allow an earned run, working the first seven innings. Jimenez gave up just one earned run in 14 Series innings.
"If Necessary" is necessary, TWICE!
Both teams with earlier losses knocked off the unbeatens in Thursday's Division Championship games, forcing both brackets to the "If Necessary" games. Friday, Toa Baja, PR takes on Chinese Taipei with one spot in Saturday's title game on the line. Shortly thereafter, Tamiami battles Riverside/Victoria, CA for the other berth.
Thursday, August 13--Tamiami bounces hosts
Trailing 4-3 entering the sixth, the South Zone champions exploded for 13 runs over the final two frames, eliminating Washington, 17-4. Gaby Casals homered and drove in six runs to lead the way. Claudio Rubiera also homered. Seven different players had rbi, all of them in the final two innings. Chris Murelle picked up his second win of the World Series. Corey Hunsberger received the Don Voytek Memorial Award, annually presented to the Washington batter with the highest batting average. Hunsberger went 4-11, a .364 average in Washington's three games.
Chinese Taipei stays in the hunt
Toa Baja built a 2-0 lead in the second and held Chinese Taipei to just one hit through four innings. But the Asia-Pacific champion scored three times in the fifth and added five more in the seventh to give the Caribbean entry its first loss in the tournament and force a Friday night "If Necessary" game in this division. Jung Hung Sen tossed a complete game six-hitter, striking out nine without walking a batter. Yu Cheng Chang had two rbi, Wei Kang Wang and Po Sheng Wang each had two hits and a run driven in. Jose Carballo homered for Toa Baja, their first of the series.
South Zoners force extra game
Tamiami built an 11-1 lead, gave up five runs in the fifth, then rolled on to an 18-6 win over previously-unbeated Riverside/Victoria, forcing this division to an "If Necessary" game Friday night. Chris Murelle hit a grand slam and drove in six runs for Tamiami while teammate David Jervis homered twice, his second and third of the World Series. Claudio Rubiera also homered for the South Zone champions who scored 36 total runs on Thursday to stay alive in the tournament. Tamiami has now scored in 10 consecutive innings..
PONY Princess--Betsy Stowinsky
Poise, composure, friendliness, hard work--just some of the attributes of this year's PONY Princess, just some of the wonderful attributes of all of the finalists. Betsy Stowinsky, a ninth grader this fall at Bentworth High School, was named the PONY Princess Thursday night. Miss Stowinsky, daughter of John & Marcia Stowinsky, was crowned by out-going Princess Joanie Paskert.
Saturday, prior to the World Series championship game, we'll name a new PONY Hostess from among finalists: Savannah Ammons, Hannah Duball, Kalina Interval, Bricelyn Meerdo, Madison Pliska, Jena Tocci, Natalie Standish, Annie Walther and Kelsey Zaremba.
Wednesday, August 12--Homerun winner for Riverside
Tony Martinez stroked a two-run homerun to rightcenter in the bottom of the sixth, leading Riverside/Victoria to a 3-2 win over the Hosts. Jack Johnson pitched three shutout innings in relief to pick up his second tournament win. Corey Hunsburger homered to right in the fourth putting Washington up 2-1. Riverside banged out 10 hits off losing pitcher Christian Koroly but Washington turned two doubleplays to hold the West Zone champs to just one run through five innings.
Taipei moves to Division Finals
Chich Chieh Su's three-run homer highlighted the fifth inning as Chinese Taipei ousted Johnstown, 7-3. The Asia-Pacific champions scored six unearned runs in the fifth, following a throwing error. Chen Wei Lan allowed just one earned run in four innings to get the win. Yu Cheng Chang earned a save tossing three scoreless innings of relief. Chun Hsien Ho homered in the sixth, the 16th different player in the World Series with a round-tripper.
RAINS FORCE WEDNESDAY SCHEDULE CHANGES
Rain fell in the Washington area through early afternoon, forcing yet another revision to the World Series schedule. Here is the latest plan:
5:30 pm Washington, PA vs. Riverside/Victoria, CA (winners' bracket game)
8:00 pm Johnstown, PA vs. Chinese Taipei (elimination game)
Tamiami, FL awaits the Washington/Riverside loser for an elimination game that will now be played (weather permitting) on Thursday. All of the scheduling remains tentative based on weather and field conditions.
Washington / Riverside Now Wednesday, 5:30 pm
Due to the rains that delayed Tuesday's first game, and the late start of the second game, the winners' bracket game between Washington, PA & Riverside, CA has been postponed. It is now set for Wednesday at 5:30 pm.
Tuesday, August 11--Toa Baja to Division Finals
Ismael Sanchez scattered four hits and his teammates scored four times in the first as Toa Baja moved to the Division Finals with a 6-2 win over Johnstown. Jose Carballo had a two-run single in the first. Sanchez doubled home two runs in the sixth inning. Johnstown drops into the elimination round against Chinese Taipei. The game was delayed for nearly 90 minutes by heavy rains after three innings.
Tamiami ousts New Bedford
The South Zone champions scored five runs over two innings with just one rbi to eliminate New Bedford, MA, 6-3. A rundown doubleplay, a balk and two wild pitches enabled Tamiami to build a 5-0 lead through three innings. New Bedford got a two-run homerun from Billy Lessa to close to within 5-3. Joshua Cedeno picked up his second rbi single in the top of the seventh to provide an insurance marker. Anthony Tucker got the win, allowing three runs and six hits over six innings. Javier Herrera worked a scoreless seventh to earn a save.
Monday, August 10--Chinese Taipei ousts Bay County
Bay County jumped in front 3-0 after two innings only to see Chinese Taipei storm back with 10 runs over the next three innings on the way to a rain-delayed 13-9 win in an elimination game. Yu Cheng Chang and Po Sheng Wang each drove in two runs for the Asia-Pacific champions. Ta Kuan Lai pitched 3.1 innings in relief to earn the win. Jake Warren's three-run homer in the bottom of the sixth pulled Bay County to within 11-9, but the North Zone champions couldn't get any closer.
Johnstown vs. Toa Baja POSTPONED
Monday night's second game has been postponed due to lightning and impending heavy rains in the Washington area. The game has been re-scheduled for 3 pm Tuesday as the opening game of a triple-header.
UPDATE--7:55 pm EDT--The rains have stopped. The ground crew is working the field. Play is expected to resume at 8:20 pm. Chinese Taipei leads 10-5 with Bay County, MI batting in the bottom of the fifth inning.
RAIN DELAY--7:10 pm EDT--Heavy rains are moving through the Washington area. The teams have been pulled from the field.
Sunday, August 9--Riverside powers to win
Paul Martinez drove in eight runs and Riverside/Victoria went back-to-back-to-back in the third on the way to a 13-2 win over New Bedford. Martinez had two homeruns in the game, one in the first and another following homers by Michael Darr and Gabriel Clark. This marks the 12th time in the history of the PONY League World Series that teammates have hit three homeruns in an inning. The eight rbi by Martinez ties a WS record set by Jordan Long in 2005.
Bay County stays alive, Saltillo ousted
Ryan Jankowski scored twice and threw two shutout innings of relief as Bay County eliminated Saltillo, MX, 3-1. Starter Grant Bridgewater got the winning, allowing just one run over five innings of work. Chase Krager's rbi double in the sixth sealed the deal for the North Zone champions. Saltillo was the first Mexico team to play in the PONY League World Series since 1980.
Tamiami holds on, Mon-Yough eliminated
Javier Herrera and Luis Touron each hit two-run homers powering the South Zone champions over Mon-Yough, 8-7. Daniel Andrad and Joshua Cedeno added rbi singles in the fourth and Alex Fernandez drove in a row with a triple in the fifth to lead Tamiami. Chris Murelle got the win, allowing just two runs on four hits over six innings of work. Herrera came on in the seventh to earn a save after Mon-Yough made it close. Dom Francia hit a grand slam, the 31st in the history of the World Series. Chaz Balsano had two hits for Mon-Yough. Dean Manown and Joe Simsic had rbi for the Host Area South champions.
Saturday, August 8--New Bedford runs out early, holds on
Two runs in the first, four more in the second proved to be just enough for New Bedford, MA as the East Zone champions knocked off Tamiami, FL, 6-4. Matt Farnworth singled in the second, pushing the early lead to 6-0. David Jervis took over on the mound for Tamiami and faced just one batter over the minimum over the final six innings. After Jervis homered in the third, Tamiami scored three times in the fifth, including two on a double by Luis Touron. Harley Breakell came on for New Bedford and slammed the door, allowing just one runner over the final 2.1 innings to save the game for Andrew McCann.
Washington edges Mon-Yough
Nick Riotto struck out 13 batters leading Washington to a 3-1 win over the Host Area North champions. Jaylin Kelly's two-run single in the third put the Hosts in front 2-0. That's all Riotto needed, taking a no-hitter one out into the sixth inning. Adam Ferita spoiled the shutout, blasting a solo homerun to right in the seventh. Dom Francia was the hard-luck loser, not allowing an earned run and just two singles.
Toa Baja to Winner's Bracket Final
Jose Mercado stroked a two-run double in the second and Joe Jimenez tossed a one-hitter as Toa Baja edged Chinese Taipei, 3-1. Daniel Blanco added an rbi single int he second for the Caribbean champs. Jimenez got a big break in the fifth when Chih Chieh Su hit what appeared to be a solo homerun but was called out on appeal for missing first base. The homerun would have brought the Asia-Pacific champions to within 3-2. Chinese Taipei got two runners on with two out in the seventh but couldn't tie the score. Toa Baja plays Johnstown Tuesday in the winners' bracket final.
Home Run Derby, Skills Winners
Adam Ferita, Mon-Yough, won the 2009 Home Run Derby title. Riverside/Victoria, CA took the team honors. Toa Baja's Jose Mercado won the Fastest Runner competition.
Friday, August 7--Toa Baja rolls to win in opener
Ismael Sanchez drove in three runs leading the Caribbean champions past Saltillo, MX in the opener. Toa Baja batted around in the thrid, plating five runs. Jeffrey Rivera got the win, allowing just two runs and four hits over six innings. Jan Cintron and Roberto Guillermo each had three hits for the winners.
Johnstown wins in extra innings
Tony Strasiser singled with two out in the ninth, driving in the tying and winning runs as the Host Area North champions beat Bay County, MI, 6-5. Bay County had taken its first lead of the game in the top of the inning, but couldn't get the final out. Johnstown turned three doubleplays in the game and threw out two runners at the plate in the game.
Gentlemen, Start Your Engines!
It seems like just yesterday that Oliver Van Buskirk stroked a pinch-hit walkoff homerun in the bottom of the seventh inning to win the 2008 PONY League World Series Championship. Wasn't it just a few days ago that Vimael Machin drove in 13 runs in the series for Gurabo, PR, breaking a record originally set in 1955? Could it possibly have been a whole year since Chinese Taipei's Chiang Lee Wei and Hu Chih Wei combined on a no-hitter in the series opener?
Now, the 58th PONY League World Series is just hours from the first pitch. This annual event, being played in the birthplace of PONY Baseball for the 47th time, begins with a Friday doubleheader. The Caribbean and Mexico champions will meet in the first of what could be 19 games, the most ever in the World Series. The annual Champions Game (formerly Friends Game) opens Saturday's schedule at 10 am, followed immediately by the Home Run Derby & Skills Competitions. Three games are on Saturday's schedule, three more on Sunday following the Celebration Brunch.
Two teams will be eliminated Sunday night, trimming the field to eight. One more goes out on Monday and another on Tuesday. At that point, each division will have one unbeaten team in the driver's seat with two others battling to stay in the hunt.
Two elimination games are on tap for Wednesday. The Division championships are set for Thursday, with "If Necessary" games (or rain makeups) next Friday night. Then, in slightly more than one week, two remaining teams will square off in a single, winner-take-all PONY World Series Championship Game. Awards will be presented, pictures taken.
And, just like that, it'll all be over for another year. Let's enjoy the ride!
On the Road To Washington--The Field is Set!
Tamiami has earned a repeat trip to the PONY League World Series, winning the South Zone title Tuesday night. The Floridians join Riverside/Victoria, CA, New Bedford, MA and Bay County, MI as US Zone champions. Those four teams will be joined by Johnstown, Mon-Yough and Washington, PA along with Chinese Taipei, Saltillo, MX and Toa Baja, PR in the 10-team field.
Tamiami repeats South Zone Title
Tamiami, FL went undefeated through the South Zone bracket, beating Kyle Chapman, 5-3 in the title game Tuesday night. This marks the second straight trip to Washington for Tamiami. Kyle Chapman had two on in the seventh but couldn't plate them to tie.
South Zone notes: This tournament was wracked by rain Friday and Saturday. The original plan was to have played six games over those two days. Mother Nature only allowed one complete game, plus three inning of the second game. Kudos to field crews, tournament organizers and teams for their patience and work to make it through the rain.
Mon-Yough win Host Area South
After Sunday's victory in the winners' bracket final, Mon-Yough finished off the Host Area South championship with a 9-1 win over Peters Township Monday afternoon. Mon-Yough ran unbeaten through the nine-team bracket with wins over Hopwood, Norwin and two against Peters Township and returns to the World Series for the first time since 2002.
Johnstown goes Back-to-Back-to-Back in Host Area North
Johnstown lost the opening game of the Host Area North tournament on Friday. Since then, the Boilers have rolled every opponent, including a 13-0 win in Monday's "If Necessary" game against Ingomar. With the win, Johnstown will make a third-straight appearance at the PONY World Series and fourth in the past five years.
Riverside/Victoria rules West Zone
Riverside/Victoria and Cypress combined to score 83 runs in pool play in the West Zone tournament. Pitching and defense took over in the championship game as Riverside/Victoria won the title with a 6-2 victory and a first-ever berth in the PONY League World Series.
West Zone notes: Cypress won pool play games by scores of 14-4, 17-2 and 16-0. Riverside outscored its three preliminary opponents 39-4.
New Bedford, MA wins East Zone title
New Bedford, MA went unbeaten through the East Zone bracket in Brockton, MA, beating Chesterfield County, VA, 10-7, in the finals. This will be New Bedford's fourth PONY League World Series entry, having won the 1977 title in Pasadena, TX. New Bedford last played in the World Series in Washington, PA in 1960, going 0-2.
East Zone notes: Hagerstown, MD and Chesterfield County, VA had combined to win eight of the last 11 East Zone titles. New Bedford beat both on the way to the berth in the PONY League World Series.
Bay County Red wins North Zone
Bay County Red, one of the host teams for the North Zone tournament, ran unbeaten through pool play, then scored 38 runs in two games on Sunday to win the North Zone title and a berth in the PONY League World Series. The winners gave previously-unbeaten Oak Park-River Forest, IL its only loss of the tournament, 17-6, in the championship game. This is the third trip to the World Series for Bay County and its predecessor, Bay City (1998, 2006).
Workers Ready Lew Hays PONY Field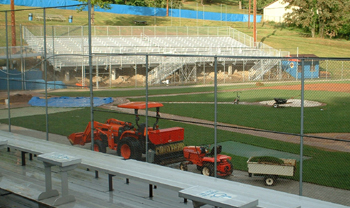 A new bleacher deck and playing surface improvements highlight the work since the 2008 PONY World Series ended last August. These new bleachers along the third-base line include handicap-accessible ramping and designated seating areas, plus an elevated seating area means that pedestrian traffic along the walkway will not block the view of the action on the field. The new bleachers were funded in part by the Local Share Account through the Washington County Commissioners and the Department of Community & Economic Development.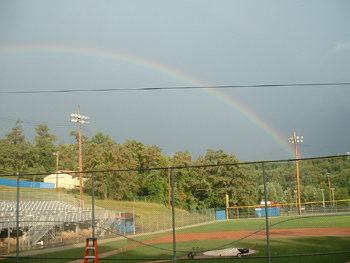 Rain fell on Lew Hays PONY Field just days after the World Series groundcrew took possession of the field. After a relatively dry summer, that wasn't an unwelcome sight. Of course, Divine oversight is always welcome at the World Series.
The homeplate area and the pitchers' mound have been rebuilt. The grass infield has been worked over, trimmed and cleaned. The basepaths have been measured and cut to specifications. Daily work, inside the playing field and out, continues through opening day, August 7th.
PONY Princess Contest--Finalists Selected
Each year, Washington area 13-14 year old girls compete for the title of PONY Princess. There were 13 applicants this year, all of them meeting with the Princess judges Thursday night, June 25th at PONY's International Headquarters. Ten finalists were chosen, one for each team in the 2009 PONY League World Series: Savannah Ammons, Hannah Duball, Kalina Interval, Bricelyn Meerdo, Madison Pliska, Jena Tocci, Natalie Standish, Betsy Stowinsky, Annie Walther and Kelsey Zaremba.
During the week of the World Series, these finalists will serve as ambassadors of our host community, along with reigning Princess Joanie Paskert and Hostess Alyssa Wise. In addition, these girls also sell 50/50 tickets each night at Lew Hays PONY Field and interact with the visiting players and their fans at the ballpark.