Scoreboard &
Broadcast Archives
Saturday, August 20
Championship Game
1:00 pm----Listen Here!
Laredo, TX 10
Chinese Taipei 9 FINAL
Archives
Friday, August 12
Game 1--Listen Here!
Santo Domingo, DR 14
Long Beach, CA 1 FINAL
Game 2--Listen Here!
Youngstown, OH 2
Culiacan, Mexico 1
Saturday, August 13
Game 3--Listen Here!
Laredo, TX 6
Lafayette, IN 0--FINAL
Sunday, August 14
Game 6--Listen Here!
Laredo, TX 6
New Bedford, MA 5 FINAL
Game 7--Listen Here!
Elimination Game
Long Beach, CA 8
Culiacan, MX 6 FINAL
Game 8--Listen Here!
Elimination Game
Lafayette, IN 8
Washington, PA 4 FINAL
Tuesday, August 16
Game 9--Listen Here!
Elimination Game
Long Beach, CA 20
Santo Domingo, DR 10 FINAL
Game 10--Listen Here!
Chinese Taipei 12
Youngstown, OH 3
Game 11--Listen Here!
Elimination Game
Lafayette, IN 6
New Bedford 3 FINAL
Game 12--Listen Here!
Laredo, TX 10
Cranberry Twp., PA 0 FINAL
Wednesday, August 17
Game 13--Listen Here!
Elimination Game
Long Beach, CA 11
Youngstown, OH 2 FINAL
Game 14--Listen Here!
Elimination Game
Lafayette, IN 5
Cranberry Twp., PA 2 FINAL
Thursday, August 18
Division Championships
Game 15--Listen Here!
Chinese Taipei 1
Long Beach, CA 0 FINAL
Laredo Wins PONY World Championship
Laredo, TX 10, Chinese Taipei 9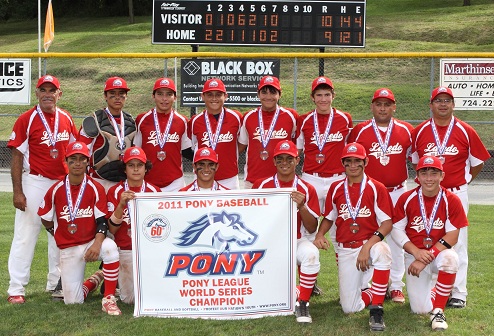 | | | | | | | | | | | | |
| --- | --- | --- | --- | --- | --- | --- | --- | --- | --- | --- | --- |
| Linescore | 1 | 2 | 3 | 4 | 5 | 6 | 7 | R | H | E | LOB |
| Laredo, TX | 0 | 1 | 0 | 6 | 2 | 1 | 0 | 10 | 14 | 4 | 7 |
| Chinese Taipei | 2 | 2 | 1 | 1 | 1 | 0 | 2 | 9 | 12 | 0 | 13 |
Homeruns Power Comeback For Texans
Abel Aguilar stroked a three-run homerun in the fourth and Eduardo Rodriguez hit a pair of two-run blasts leading Laredo, TX to a come-from-behind 10-9 win, claiming the 60th PONY League World Series Championship Saturday afternoon. The Texans batted around in the fourth, scoring six times to take a lead they never relinquished.
Runnerup Chinese Taipei built a 5-1 lead, getting three straight hits in the bottom of the first, including the first of three rbi singles for WS Batting Champion Ku-Fan Wang. Wei-Chieh Chang's fielder's choice made it 2-0. Two more runs crossed the plate in the second, Wang's basehit delivered one and he scored on an errant throw on a steal of third. Pinch-hitter Shao-Jui Pai singled home a run in the third, putting the Asia-Pacific champions up by four.
Taipei lifted starter Wei-Chiao Weng after three. Ching Chang walked the first two batters, then surrendered the Aguilar blast over the left-centerfield fence, pulling Laredo to within a run. Losing pitcher Ting-Chin Chueh was touched up for three runs before getting out of the inning, including the first of E. Rodriguez' homeruns, a linedrive over the fence in right. Winning pitcher David Garza added an rbi single, pushing the South Zone champions to a 7-5 lead. E. Rodriguez homered with Aguilar aboard in the fifth, and Felipe Rodriguez singled home the final run of the game for Laredo in the sixth, pushing the margin to 10-7.
Taipei, looking for a seventh PONY championship since 1993, didn't go quietly, getting back-to-back doubles from Wang and W-C Chang to open the fourth but settling for one run. A single score was tallied on Wang's rbi single in the fifth. The Asia-Pacific champs had gotten clutch hits through the Series, but left the bases loaded in the first, fourth and seventh innings, stranding a total of 13 runners.
The Taipei seventh began with back-to-back walks, bringing the tying run to the plate. Garza struck out two. W-C Chang singled to center on an 0-2 pitch scoring two. C. Chang singled, putting runners on the corner. Isaac Gutierrez relieved Garza and hit Chia-Cheng Lin, loading the bases. Chia-Wei Chang then hit a chopper up the middle, fielded by shortstop Aguilar who stepped on second and ignited the championship celebration.
Garza (2-0) worked 4.0 innings, allowing four runs on six hits while striking out seven. Gutierrez (2-0-1) earned a save. Ting-Chin Chueh (1-1) took the losses, allowing three runs in less than one full inning. Starter Wei-Chiao Weng held Laredo to one run and three hits over the first three innings.
NOTES: Laredo finished with seven homeruns in the World Series, the most of any team. The 20 total in the Series is the fewest since 2006 (14), 14 less than last year. Taipei did not have a homerun in the series. All 10 rbi in the final for Laredo came from the fifth spot and lower in the lineup, including E. Rodriguez' four and Aguilar's three. Garza, F. Rodriguez and Martinez had the others. The bat-around in the Laredo fourth was the sixth total in the Series, including three in the Long Beach, CA 20-10 win over Santo Domingo, DR. Wei-Chieh Chang drove in four in the final. Ku-Fan Wang finished the World Series with nine hits and won the batting title with a .692 average. Lafayette, IN pitcher Mason Bruce won the ERA award (1.19).
Inning-by-inning recap:
1st inning
Laredo: Mario Garcia singled wtih one out. One left on.
Taipei: Wei-Hao Chen doubled followed by Chen-Yu Tsai with a bunt single. Ku-Fan Wang's single scored Chen. Tsai and Wang moved up on a passed ball. Wei-Chieh Chang reached on an error. Tsai scored. Ching Chang was hit by a pitch, loading the bases. A fly out, a foul out and a strikeout ended the inning.
2nd inning
Laredo: Felipe Rodriguez stroked a lead-off single, moved to second on a sacrifice bunt and scored on a double to center by Bernie Martinez. A popout ended the inning.
Taipei: With one out, Wei-Hao Chen doubled to left, moved to third on a groundout and scored on Ku-Fan Wang's single to center. Wang stole second and third and scored on a throwing error.
3rd inning
Laredo: Retired in order.
Taipei: Chia-Cheng Lin reached on an error and stole second. Po-Hsun Liao walked. Pinch-hitter Shao-Jui Pai singled to left, scoring Lin, moving Liao to third and taking second on the throw. Wei-Hao Chen walked. A popout ended the inning.
4th inning
Laredo: Ching Chang to pitch for Taipei. David Garza walked and went to second on Felipe Rodriguez' single to left. Abel Aguilar homered to left, his second of the World Series. Ting-Chin Chueh to pitch for Taipei. After one out, Bernie Martinez walked. David Rendon pinch-run for Martinez. Eduardo Rodriguez homered to right. Eddie Gonzalez doubled to left. One out later, Isaac Gutierrez walked. Garza singled to left, scoring Rodriguez.
Taipei: Ku-Fan Wang doubled off the fence in right, scoring on Wei-Chieh Chang's double to left. After a strikeout, Chia-Cheng Lin singled to left, moving Chang to third. Lin stole second on the second out. A strikeout ended the inning.
5th inning
Laredo: Abel Aguilar singled to right. Two outs later, Eduardo Rodriguez homered, his second of the game.
Taipei: After one out, Wei-Hao Chen walked and moved to second on a groundout. Chen scored on Ku-Fan Wang's single past the shortstop.
6th inning
Laredo: With one out, Isaac Gutierrez doubled over the third-base bag. David Garza singled to left, moving Gutierrez to third. Felipe Rodriguez singled to left, scoring Gutierrez.
Taipei: After one out, Chia-Cheng Lin reached on an error. Chia-Wei Chang hit into a forceplay and was stranded.
7th inning
Laredo: With two out, Eddie Gonzalez singled and was stranded.
Taipei: Sheng-Hung Su walked and was replaced by pinch-runner Chih-Hsiang Ho. Wei-Hao Chen walked. Both runners advanced on a wild pitch. After two outs, Wei-Chieh Chang singled to center, scoring two runs. Ching Chang singled to right, putting runners at the corners. Isaac Gutierrez came in to pitch. Chia-Wei Chang was hit by a pitch, loading the bases. A force play at second ended the game.
Substitutions:
Taipei
Bottom 3rd: Shao-Jui Pai pinch hit for #1 Wei-Chiao Weng, stays in to play CF.
Top 4th: Ku-Fan Wang to 2B, then returns to 3B.
Top 4th: Ching Chang to P, then returns to 2B.
Top 4th: Chia-Wei Chang to 3B, then returns to LF.
Top 4th: Po-Hsun Liao to LF, then returns to CF.
Top 4th: Ting-Chin Chueh to P.
Top 4th: Sheng-Hung Su to P.
Bottom 7th: Chih-Hsiang HO pinch-run for Sheng-Hung Su.
Laredo
Bottom 3rd: David Garza to pitch, Eddie Gonzalez to first base.
Top 4th: Gera Ramos pinch hit for Ruben Solis.
Top 4th: David Rendon pinch run for Bernie Martinez.
Bottom 4th: Martinez re-enters.
Bottom 4th: Solis re-enters.
Bottom 7th: Isaac Gutierrez to pitch. David Garza to LF.
Starting Lineups:
Laredo, Texas
Chinese Taipei

9

Eddie Gonzalez
P

13

Wei-Hao Chen
SS

13

Mario Garcia
CF

9

Chen-Yu Tsai
RF

8

Isaac Gutierrez
LF

10

Ku-Fan Wang
3B

7

David Garza
1B

6

Wei-Chieh Chang
1B

3

Felipe Rodriguez
C

4

Ching Chang
2B

2

Abel Aguilar
SS

5

Chia-Cheng Lin
C

12

Ruben Solis
RF

7

Chia-Wei Chang
LF

4

Bernie Martinez
2B

8

Po-Hsun Liao
CF

6

Eduardo Rodriguez
3B

1

Wei-Chiao Weng
P
Thursday--Laredo to World Series Title Tilt
Mario Garcia homered to break a 1-1 tie, giving Laredo, TX the lead for good as the South Zone champs eliminated Lafayette, IN, 7-3, claiming a spot in Saturday's World Series championship game. Winning pitcher Isaac Gutierrez and Felipe Rodriguez added rbi singles in the fifth. Eddie Gonzalez tripled home one run and scored another in the sixth. Gutierrez worked 4.1 innings, allowing three runs on six hits. Gutierrez pitched the final 2.2 innings, striking out seven while allowing just one baserunner to pick up the save. Laredo is the first team from Texas to make the finals since 1992 (Pasadena) and is trying to win the Lone Star State's first PONY title since Houston's 1962 crown.
Chinese Taipei to Championship Game
Ku-Fan Wang singled with two out in the third to score Shao-Jui Pai with the game's only run as Chinese Taipei eliminated Long Beach, CA, 1-0. Wang had two of Taipei's five hits. Three pitchers combined to hold Long Beach to five hits over seven innings. Starter Wei-Chiao Weng got the win, working three innings, facing just one batter over the minimum. Sheng-Hung Su pitched the seventh for the save. Josh Goldberg took the loss despite allowing just one run on two hits over the final five innings in relief of starter Sean Suarez. The West Zone champs had two on with one out in the third and again in the seventh but could not score. Chinese Taipei will seek a seventh PONY title since 1993.
Thursday--Previews
Unbeaten Chinese Taipei and Laredo, TX are in the drivers' seats. Each needs one win to make Saturday's World Series Championship Game. Long Beach has to beat Chinese Taipei twice to make it. The story for Lafayette is the same--beat Laredo twice or go home.
The Chinese Taipei / Long Beach game will be the first meeting between the two in the two-division double-elimination tournament. Laredo beat Lafayette in the first game Saturday afternoon, 6-0. Eddie Gonzalez tossed a complete-game shutout and Abel Aguilar homered for Laredo in the win.
Chinese Taipei, the 2009 champion, has won six PONY World Series titles starting in 1994. Long Beach owns three of California's 20 championships, the last coming in 2008. A Texas team won three of the first 11 PONY championships and hasn't won since. Lafayette is trying to break a 48-year drought by teams from Indiana. Only two North Zone teams have won PONY titles since Evansville, IN won the 1963 crown--Bradley-Bourbonnais and Joliet, IL back-to-back in 1992-1993.
Wednesday--Elimination Day
Lafayette beats Cranberry Twp.
Sean Roginski's two-run double gave Lafayette, IN a lead it would never relinquish and Walter Talcott allowed just two runs on four hits over six innings as the North Zone champions eliminated Cranberry Township, PA, 5-2. In the fourth, Blake Elming singled to drive in one run scored on Dylan Kiracofe's two-run homerun to make it 5-0. Cranberry Township got an rbi double by Ryan Maurer in the fifth and scored another run in the sixth on two Lafayette errors but couldn't pull square. Talcott struck out ten batters putting the North Zone squad into Thursday's Division Finals. Troy Martin took the loss.
Long Beach stays alive, ousts Youngstown
Tyler Radcliffe held Youngstown two runs and five hits as Long Beach, CA ousted the Host Area North champions, 11-2. The righthander struck out five and retired the side in order three times in six innings. Blake Perkins led a 16-hit Long Beach attack with four hits, including a double and three rbi. Radcliffe drove in two runs. Tristin Chamberlain and Josh Goldberg each had three hits including a double. Alec Hammond and Tommy Cannon each had rbi doubles for Youngstown. Starter Davey Lemasters took the loss, allowing three runs on six hits in his three innings. Long Beach moves to Thursday's Division Finals against unbeaten Chinese Taipei, needing to beat the Asia-Pacific champions twice to make the World Series final.
Rain, Rain Has Gone Away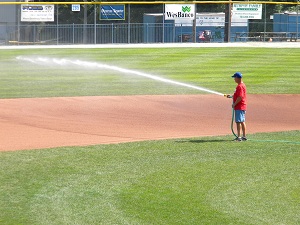 What a difference a day makes...after getting completely washed out Monday, World Series Ground Crew chief Mark Murphy waters the infield prior to Wednesday's action. Brilliant sunshine broke out just after the final downpour on Monday and the field has been baked under clear skies ever since. The clay-based infield dirt needs water to keep its elasticity.
Four teams, each with one loss, try to avoid the awards ceremonies at the PONY League World Series tonight. In the early game, Youngstown, OH faces Long Beach, CA. The Host Area North champs look to rebound from at 12-3 loss to Chinese Taipei, while the West Zone winners look to keep the train rolling after a 20-10 win over Santo Domingo. The nightcap features Cranberry Township, PA against Lafayette, IN. The Host Area South squad has to try to rebound from a 10-0 setback against Laredo, TX while the North Zone team tries to build on a 6-3 win over New Bedford, MA in Tuesday's elimination round. Today's winners move to Thursday's Division Finals. The losers' stay in the World Series ends with awards presentations after the games.
Tuesday--Winners' Bracket Games
Laredo to Division Finals
Laredo scored four times in the first and winning pitcher David Garza belted a three-run homer in the second to lead Laredo, TX to a 10-0, five-inning win over Cranberry Township, PA. Eddie Gonzalez opened the game with a solo homerun for the South Zone champions. Felipe Rodriguez stroked a two-run double and later scored on an errant throw to make it 4-0 after one. The winners pushed the margin over the 10-run rule with runs on a wild pitch, an error and a Gera Ramos rbi single. Garza tossed three innings, allowing just two hits and two walks while striking out five. Ruben Solis worked the final two frames, facing just six batters. Cranberry Twp. will try to stave off elimination Wednesday night against Lafayette. The winner will have to beat Laredo twice to make the World Series championship game.
Chinese Taipei rolls to Division Finals
Chinese Taipei scored runs in all but one inning, rolling to a 12-3 win over Youngstown, OH. The Asia-Pacific Zone champs are unbeaten and into Thursday's Division Finals. Youngstown faces Long Beach, CA Wednesday in an elimination game. Youngstown scored one run in the bottom of the third, but left the bases loaded and trailed 2-1. When the Host Area North winners scored next, they were already down nine runs. Chinese Taipei got rbi's from eight different players including three from Wei-Chieh Chang who lifted a pair of sacrifice flyouts and a run-scoring single. Starter Ting-Chin Chueh got the win, holding Youngstown to one run and five hits over the first five innings.
Tuesday--Elimination Games
Lafayette eliminates New Bedford
Mason Bruce scattered six hits and struck out eight leading Lafayette, IN past New Bedford, MA, 6-3. The North Zone champions scored five times in the third getting an rbi single from Spencer Caldwell, his second of the game, and a two-run double off the bat of Jayden Williams. P.J. Poulin had tied the game at 1-1 with a solo homerun in the third for New Bedford. Bruce allowed just two hits after that. Lafayette faces Cranberry Township in Wednesday's elimination round. New Bedford is eliminated with the loss.
Long Beach exacts revenge, ousts Dominican squad
The West Zone champions lost a 10-0 lead, then roared back to win a five-inning game, eliminating the Dominican Republic, 20-10. Long Beach lost the opening game of the World Series, 14-1, to the Caribbean champions. The Californians scored in every inning, including eight runs in the final frame. Jackson Foss' two-run homer in the third put Long Beach up 10-0. Santo Domingo scored ten times in the fourth, getting three-run bombs from David Rodriguez and losing pitcher Mario Martinez. Rodriguez doubled home three runs later in the inning, giving him a World Series record six rbi in the frame. After scoring twice in the fourth to retake the lead, Long Beach ended the game with six straight singles to begin the fifth and a two-run double by Andy Brown to end it. Brown finished with five runs batted in. Will Johnston got the win in relief, his second of the World Series. Long Beach moves to Wednesday's elimination game against Youngstown. The 30 total runs are the second-most in World Series history, the most since the 1984 Caguas, PR 23-9 win over Maui, HI.
Let's Play FOUR!
Oh, how Hall of Famer Ernie Banks would love this day at the PONY League World Series. The 19-year Major League veteran oft remarked "It's a beautiful day for a ballgame. Let's play two!" After Monday's rainout, World Series Tournament Director Terry Faust doubled up on the former All-Star, declaring "Let's Play FOUR!" And it is going to be a Beautiful Day for a Ballgame! Both games originally scheduled for Monday were re-scheduled to Tuesday morning and early afternoon.
Monday Games Postponed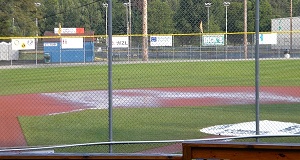 After avoiding weather problems over the weekend with rain forecasts in the 50-80% range, Monday's twinbill fell victim to two hours of early afternoon rain and a hard 20-minute downpour. Just when it looked like the scheduled elimination game could be played, albeit delayed, the skies opened and the rains poured, soaking an already wet Lew Hays PONY Field. Watching cell after cell slide by Washington Park, sometimes within a half mile, Tournament Director Terry Faust and Chairman Bob Gregg were hopeful of continued good fortune. With the trailing edge of the last band of rain just 12 miles to the north and moving quickly, the cell ran squarely over the park and the 20-minute downpour left standing water on the infield and the outfield unplayable.
Sunday--Laredo scores early, holds on
Three two-out singles plated four runs in the Laredo second inning as the South Zone champions knocked off New Bedford, MA Sunday afternoon. Bernie Martinez, Eduardo Rodriguez and Mario Garcia delivered the hits, Garcia's driving in a pair to make it 4-0. New Bedford scored three unearned runs in the fourth, including two on a single by Chandler Debrosse. Laredo scored single runs on errors in the fifth and sixth to make it 6-3. The first three New Bedford batters reached in the sixth, including Tyler Zell's rbi single. Starter Isaac Gutierrez gave way to David Garza who allowed on hit over the final two frames. Laredo moves to the Winners' Bracket Monday night against Cranberry Twp., PA. New Bedford meets the winner of the Washington/Lafayette elimination game.
Culiacan eliminated by Long Beach
Long Beach, CA scored seven runs over the final three innings, then held on to eliminate Culiacan, MX, 8-6, Sunday night. Trailing 2-1 after four, Long Beach scored three times in the fifth. Tyler Radcliffe doubled. Two walks later, a balk scored Radcliffe. Jake Barham's groundout scored a second run and Tristin Chamberlain singled home the third tally. Barham homered in the seventh, Mike Fitzgerald added a sacrifice fly and Andy Brown's single pushed the lead to 8-2. Culiacan scored four times in the bottom of the seventh before Josh Goldberg relieved and slammed the door. Daniel Cisneros homered earlier for Culiacan. Will Johnston got the win, tossing 2.2 scoreless innings in relief of Radcliffe. The West Zone champs play Santo Domingo Monday evening, a rematch of the tournament's opening game won by the Dominicans, 14-1.
Lafayette bounces Washington


Lafayette, IN scored three runs in the first, five more in the second on the way to an 8-4 win over Washington, PA, ending the host's stay in the World Series. Spencer Caldwell stroked a two-run single in the opening frame and then scored on a double-steal, pushing the North Zone champs to a 3-0 lead. Four straight two-out singles in the second pushed the lead to 8-0. Winning pitcher Mason Bruce pitched three no-run, no-hit innings. Kolin McCord allowed two runs in the Washington sixth and Caldwell was touched up for two more in the seventh, both scoring on Nate McIlvaine's two-out single. Dom Neff pitched 4.1 perfect innings of relief, keeping the game within reach for the hosts. Lafayette plays New Bedford, MA in an elimination game Tuesday evening. Jonathan Spina recieved the Voytek Memorial Award as Washington's leading hitter. Spina collected four hits in seven World Series at-bats (.571).
Saturday--Laredo rolls to shutout win
Eddie Gonzalez held Lafayette, IN to four hits in a complete game shutout as Laredo, TX beat the North Zone champions, 6-0. Abel Aguilar broke a scoreless tie in the fourth with a two-run homerun. Gera Ramos' delivered a pinch-hit two-run single to break it open an inning later. Isaac Gutierrez had two hits and two rbi. Gonzalez had six strikeouts while walking four. Laredo faces New Bedford, MA Sunday afternoon. Lafayette drops into an elimination game Sunday evening against Washington.
Cranberry Twp. erupts early
The Host Area North champions took advantage of five walks and two errors in the first inning to roll past host Washington, 11-0, in the opening game for both teams. Joel Shaffer and Ryan Donnelly combined to hold Washington to just two hits over the six innings, both singles by Jonathan Spina. Shaffer had a homerun, a triple, two rbi and three runs scored. Mason Dehart also homered and drove in three. Ross Bondo drove in three runs on two singles. Cranberry Township advances to Tuesday's Winners' Bracket Final against Laredo. Washington takes on Lafayette, IN Sunday in an elimination game.
Taipei wins late
An error, a double, two walks and a wild pitch led Chinese Taipei to a 5-4 come-from-behind win over Santo Domingo Saturday night. Trailing 4-3 in the seventh, winning pitcher Sheng-Hung Su reached on a one-out error, moved to third on a double by Wei-Hao Chen. Chen-Yu Tsai walked to load the bases and Ku-Fan Wang's free pass tied the game. Ruberto Alcantara relieved on the mound and uncorked a wild pitch on his first throw, scoring Wei-Hao Chen, ending the game. Santo Domingo built a 3-0 lead, getting a two-run single from Antony Dominguez in the second and a run-scoring double by starting pitcher Carlos Espinal in the fourth. In the bottom of the frame, Taipei scored on an errant throw and a basehit by Chia-Cheng Lin. The Asia-Pacific champs tied the game in the bottom of the sixth with a hit-batter, a groundout and losing pitcher Marcos Diplan's two wild pitches. David Rodriguez' double scored Cristopher Luciano in the top of the seventh, setting the stage for the wild finish. Chinese Taipei takes on Youngstown, OH in the Winners' Bracket Monday night. Santo Domingo will take on Long Beach in an elimination game Monday evening.
Opening Day--Santo Domingo pounds way to win!
On the lush, green grass of Lew Hays PONY Field and under beautiful sun-shiny skies, the PONY League World Series has begun. Santo Domingo, making its first-ever appearance in Washington, got four homeruns, two from Dany Rojas, including a grand slam, as the Caribbean champions beat Long Beach, 14-1, in five innings Friday night. Edward Medina homered to open the game. Three batters later, Rojas drilled a two-run shot to right. After Long Beach got a two-out rbi single from Jake Barham, Cristofer Luciano homered, winning pitcher Mario Martinez doubled and scored, and Rojas scored after reaching on a strike-out, wild pitch. Santo Domingo put the game away with an 8-run fifth inning, including the grand slam by Rojas, the 36th in the history of the PONY League World Series. The Caribbeans play Chinese Taipei Saturday evening. Long Beach drops to an elimination game Sunday evening.
Youngstown edges Culiacan
Brandon Chamberlain's one-out double scored Tommy Cannon from first with the go-ahead run in the sixth as Youngstown, OH beat Culiacan, MX, 2-1, Friday night. It's the first World Series win for an Ohio team since Hamilton went to the 1997 finals. Culiacan had tied the game 1-1 in the bottom of the fifth when Cristian Quintero singled and later scored on a wild pitch. Youngstown, the Host Area North champions, took a 1-0 lead in the third. Winning pitcher Dave Lemasters singled, moved to second on a wild pitch, to third after a walk and a single by Austin Brunstetter, then scored on a ground out by Alec Hammond. Lemasters held Culiacan to one run and three hits over seven innings. Culiacan starter Jasiel Gomez went the distance, allowing just two runs and six hits. Both pitchers notched six strikeouts.
60th PONY League World Series Field is Set!


Laredo, TX won the South Zone championship Monday night. A couple hours later, Long Beach, CA took the West Zone title, completing the field for the 60th PONY League World Series in Washington, PA. Laredo joins Lafayette, IN (North Zone), Cranberry, PA (Host Area South), Washington, PA (Host) and New Bedford, MA (East Zone) in one division. Long Beach will be in the bracket with Santo Domingo, DR (Caribbean), Culiacan (Mexico), Youngstown, OH (Host Area North) and Chinese Taipei (Asia-Pacific). Action begins Friday at Lew Hays PONY Field and on WJPA-AM (1450).
Long Beach Rules the West Zone


Long Beach, CA beat Simi on consecutive days, rolling to the West Zone championship
and a berth in the World Series. After taking the first meeting between the two teams on Sunday, 2-0, Long Beach jumped in front of Simi early in Monday night's final and went on to an impressive, 6-1, win. The victory gives Long Beach a third World Series berth in a five-year period. The Californians won the 2008 title after a runnerup finish in 2007.
Laredo Outlasts Kyle Chapman for South Zone Title


Laredo, TX beat Kyle Chapman, 17-16, in the finals Monday night, claiming the South Zone berth in the PONY League World Series. The win was a second straight over Kyle Chapman, winning the Winners' Bracket final, 13-3, Sunday afternoon. Then, to earn their first-ever berth in the PONY Series, Laredo avoided the dreaded "If Necessary" game.
New Bedford Rallies to Win East Zone


New Bedford, MA came from the Losers' Bracket Sunday afternoon to earn the East Zone berth in the PONY League World Series. This is the second time in three years New Bedford will represent the East. Henry County, VA was unbeaten in the tournament heading to the finals but couldn't get that last victory needed.
Cranberry Sweeps to Host Area South Title


Cranberry knocked off Johnstown, Butler and West View Ross in succession to win the Host Area South championship and a berth in the PONY League World Series Sunday afternoon. The winners beat West View Ross in the championship game, 9-2. Cranberry begins World Series play Saturday afternoon against Washington.
Youngstown, OH Wins Host Area North Berth


After going unbeaten through the Mt. Lebanon Region tournament, Youngstown, OH put up another perfect bracket at McCandless, claiming the Host Area North's berth in the PONY League World Series. Youngstown is the first Buckeye state team to make the World Series since Hamilton, OH lost in the 1997 championship game.
Chinese Taipei Takes Asia-Pacific Tourney


After a one-year absence from the PONY League World Series, Chinese Taipei has claimed a fourth beth in five years, winning the Asia-Pacific Zone championship. Teams from Chinese Taipei have won six PONY championships here in Washington, all since 1994, including the 2000, 2005 and 2009 titles, plus a runnerup finish in 2008
Lafayette Wins North Zone Berth


McCutcheon Youth Baseball (Lafayette, IN) rolled unbeaten through region tournament action, then swept five games at Bay City, MI to claim the North Zone championship and a berth in the PONY League World Series. After outscoring opponents 53-9 in the Zone tournament, Lafayette will begin PLWS action Saturday, Aug. 13 against the South Zone winner.
Culiacan to Represent Mexico in '11 PLWS


The Mexico PONY championship belongs to Culiacan, Sinaloa. And with it, a berth in the 2011 PONY League World Series. Culiacan is approximately 750 miles northwest of Mexico City, nearly 450 miles south of Hermosillo, the 2010 Mexico entry in the World Series. Last year, Hermosillo won an elimination game against Johnstown, PA, the first victory for a team from Mexico since a 1979 quarterfinals win over Garden City, CA.
Santo Domingo, DR Wins Caribbean Tournament


For the first time ever, the Dominican Republic won the Caribbean PONY Tournament, becoming the second qualifier to the 2011 PONY League World Series. Santo Domingo ended a string of 28 straight Caribbean championships by teams from Puerto Rico, including seven World Series titles, the last by Trujillo Alto in 2007.
WJPA Radio (1450 AM)

Mark Uriah
"The Radio Voice of the PONY League World Series"--Mark Uriah has been on mic for nearly every PONY League World Series game since 1984. With a degree from Ohio State, Mark also handles play-by-play announcing for the Wild Things, W&J College & high school football, basketball, wrestling, hockey, baseball & softball.
Jason Kern, who teams with Mark through the winter on WJPA's High School Wrestling Tournament coverage, will be on the World Series crew for his second year.
WJPA Radio has been the play-by-play home for virtually every PONY League World Series game played in Washington. Hear all the action on WJPA-AM (1450 AM), and online, courtesy of MSA Sports.net. Listen Here links are available for each game in the left-hand Scorebaord column.
Click Here to read about the special relationship between the PONY League World Series and WJPA Radio, one that spans nearly 60 years!
Special thanks to our radio broadcast sponsorship team:
First Federal of Greene County
Advanced Orthopaedics/Rehabilitation
PONY International Headquarters
Beechies Place
Slovenian Savings & Loan
Phillips & Faldowski
Bull International
Albert's Meats
Michael Conway, All-State Insurance
Washington Financial Bank
Coen Oil Company
Washington Wild Things Baseball
CiCi's Pizza
Chambers Insurance Agency
Washington Drug & Alcohol Comm.
Dr. Ed Roman & Dr. David Vaughan
Observer-Reporter
Julian Law Firm
Ferro Corporation
Isaly's of Washington
Day Insurance Agency
Zappi Oil
Washington County Tourism Agency
Community Bank
Isiminger's Splish Splash Car Wash
& Pennzoil 10-Minute Oil Change Washington & Jefferson College
Individual Awards
Skills Competition
Saturday, Aug. 13
Home Run Derby
Individual Champion--
1. Kevin Marthinsen, Washington
T-2. David Garz, Laredo, TX
T-2. Mario Martinez, Santo Dom.
Fastest Runner--
1. Chen-Yu Tsai, Chinese Taipei
2. Irvin Johnson, New Bedford, MA
2011 PONY Princess
Danielle Humphreys
8th grade, Trinity Middle School
2010 PONY Hostess
Maddie Rush
8th grade, Trinity Middle School
Wilson Sporting Goods
Batting Champion--
Ku-Fan Wang,
Chinese Taipei (.692)
Easton Sports
ERA Award--
Mason Bruce,
Lafayette, IN (1.19)
PONY World Series Pages
2010 --- 2009 --- 2008 --- 2007
2006 --- 2005 --- 2004 --- 2003
2002 --- 2001